Thorough eye examinations
to give you peace of mind
The eye examination begins with your optometrist asking you questions about your vision, your health, your family history, your lifestyle, leisure, work etc... It is important for you to tell the optometrist about any changes to your sight, any concerns you have, or any discomforts that you are feeling no matter how large or small... we want to hear about it.
The optometrist will then examine your eyes... take measurement of your eyes (how long or short-sighted you are), assess how your eyes focus and co-ordinate together, and conduct a number of tests to assess the health of your eyes.
Everything we do throughout the examination can be explained so you know and understand why the tests are necessary and what we are doing. Do not hesitate to ask questions... we are here to look after your eyes and give you peace of mind.
Our philosophy is that it is not sufficient to just have good vision; you need "comfortable" vision...
The final results are not just based on our measurements or how far or near you can see, we also take into account any symptoms you have (are you getting discomfort or strain?) and your visual needs (the environment in which you work or live, such as the positioning of your computer screen). Our advice will aim to give you comfortable vision at the various distances and situations that busy lifestyles often demand.
Investing in the latest technology
We are committed to keeping a careful watch on your eye-health. Over the last few years we have invested in the latest technological equipment including a new sophisticated retinal camera, which takes highly magnified photographs of the back of your eyes giving us a permanent, accurate record... and you can see for yourself what we have been looking at and talking about. We also have instruments to examine the front of your eyes in detail.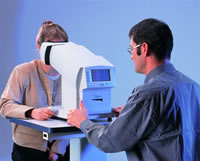 Although the test to measure the pressure in your eyes only takes a second, it is not always remembered as the most pleasant of tests, so we have invested in a new instrument, which our patients agree is definitely "friendlier".
Some years ago we invested in the gold standard instrument from Zeiss Humphries to measure your visual fields (affectionately called "Humph"). This is a rather laborious test and recently we invested in an FDT (Frequency Doubling Technology by Zeiss). "Little Humph" is a 30 second visual field screening test, which is particularly sensitive for finding early signs of Glaucoma. We use it in our routine eye examination for the over 35 year olds and it has helped to make your examination a more pleasant experience.
When purchasing new equipment we have taken care to choose instruments that are compatible with those used at the local hospital so that, if you do develop a condition that requires assessment by an eye specialist, the results are easily transferable.
Everything explained to you, simply and clearly...
At the end of the eye examination we will discuss with you, in plain English, what we have found. If we have established that you need glasses, or need to change your existing glasses, we will explain exactly why and what difference the prescription will make. If the change is small or borderline, you will be shown the benefits and difference so that you can decide if you wish to purchase new glasses or not.
We will explain when you will need to wear your glasses in relation to your vision, work and leisure lifestyle. We also explain what changes to your vision we expect in the future and when you need to have another re-check or full eye examination.
If you don't need glasses we will explain how you should be using your eyes so that you have clear, comfortable vision, whatever you're doing. If your symptoms and our findings don't match, the optometrist will check that something else is not causing your "eye strain". It may be nothing to do with your vision and need for glasses, but can, for example, be alleviated by changing your light source, moving your television, repositioning your computer... We take the time and care to consider all you concerns and problems. We don't "just sell glasses".
Healthy life time vision for you.
Our thorough eye examination gives us a clear picture of your eye health and can also detect underlying health problems such as diabetes or high blood pressure.
At the end of the eye examination the optometrist will tell you about the health of your eyes, and advise when you need follow up appointments.
We keep full, confidential records, because the first sign of developing eye problems is often shown up by the changes we notice from previous examinations... the sooner changes to your eyes are detected, the better the chance of successful treatment.