Lindberg Air Spirit... new rimless eyewear to capture the spirit of the times
The original 100% titanium rimless spectacles!
Lindberg started the revolution in classic rimless titanium wire eyewear in the mid 1980s. The name was Air Titanium and this brand continues to be sold worldwide as a high-class product reflecting the shapes and colours of today.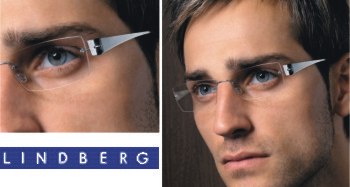 Air Spirit is the evolution of that brand. With exquisite design capability, Lindberg has used the latest titanium materials and laser technology to create a super-slimline minimalist frame - completely in keeping with the spirit of the times.
Unlimited number of tailor-made options to choose from at Lesley Arkin Optometrist...
No two faces are the same, which is why we give you an almost unlimited number of tailor-made options to choose from. Our selection of Air Spirit designs includes around 35 different eye shapes and over 40 different side styles and colours, all of which can be mixed and matched for the ultimate in customising.
Enhance your eyes instead of hiding behind your spectacles
Truly lightweight - just 1.9 grams!
Individual, discreet and extremely comfortable
Resilient, strong, flexible and aesthetically pleasing
Excellent field of view
Two-year guarantee
Hypoallergenic
No screws!
Solving the problem of the loose screw
As well as exquisite design, Spirit features a patented screw-free hinge and an uncomplicated assembly method. This unique mounting system, which uses high-tech UV adhesive, means there are no longer any metal parts in the field of vision, ensuring optimal vision and strength! The design and assembly method accommodates lightweight lenses using thinner high-index materials.
Related Links
Return to Brands
Return to Frames